Bacon wrapped little smokies
Submitted by: Kimmie
One of the most favorite appetizers in my house!
Ingredients:
You start with one or two packages of lil beef smokies. Sometimes you can find a larger package.  I opt for the larger if I can find it. Depending on how many packs of smokies you buy, you will need two or three packages of bacon. I find thin works best for wrapping. So about a pound of bacon per small pack of smokies, again, depending on the size of the pack of bacon.  You can always buy more. There is no such thing as too much bacon!
Last ingredient is lots of brown sugar. About a box for two trays of smokies.
Directions:
You can make this the night before and keep the covered in the frig.
All you do is open the bacon and cut in half, or in thirds. Depends how much bacon you want wrapped around each one.  I do a tester slice before I cut all the bacon.
Wrap each smokie in bacon and secure with a toothpick. I put them all in a 9 x 13 pan as shown in the picture.
When you're all done wrapping, you pour brown sugar over the top. Well, I pretty much dump it all over. The more the better!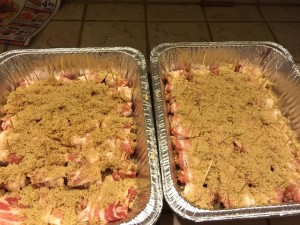 As I mentioned, you can store them overnight, or bake the right away. I usually use a 400 degree oven and check them in about 40-45 minutes. Sometimes I find I need to leave them in longer. I like the bacon a little more done. Of course it depends on your oven, some cook faster.
When then are finished, I take them out and transfer them into a serving dish…if they make it that far!
They are usually the first to go!
Enjoy!
--