Biscuits
Submitted by: Sharon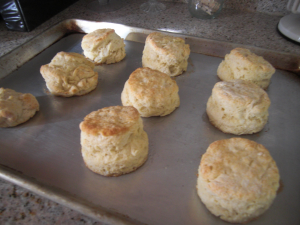 Yield: 8 Servings
INGREDIENTS:
2 cups flour
1 tsp salt
4 tsp baking powder
1/3 cup butter; cold
2 tbls granulated sugar
3/4 cup milk; cold
DIRECTIONS:
1. Preheat oven to 425 F. Mix first 4 ingredients together in a bowl.
2. Cut butter into small chunks. Add to flour mixture. Cut in butter with a pastry blender or fork until crumbly.
3. Add milk.
4. Stir until it forms a ball.
5. Turn out onto a well floured board and roll to 1 inch thick. Cut into rounds with a floured biscuit cutter or glass. Arrange on a baking sheet.
6. Bake in 425 F oven for about 10-12 minutes or until risen and nice golden brown.
--