Chocolate Crinkles
Submitted by: Kimmie
Ingredients:
1 cup unsweetened cocoa powder
1 1/2 cups white granulated sugar
1/2 cup vegetable oil
4 eggs
2 tsps vanilla extract
2 cups all purpose flour
2 tsps baking powder
1/2 tsp salt
1 cup confectioner's sugar
Directions:
Beat together with mixer, or wooden spoon, the cocoa powder, white sugar and vegetable oil until it comes together in a shiny, gritty, black dough. It will not be "dough" thick.
Add the eggs in one at a time, mixing about 30 seconds each.
Add vanilla and beat in thoroughly
In a separate bowl, whisk together flour, baking powder and salt.  Mix into chocolate mixture on low speed until just combined.  Do not over beat.
Cover the dough with plastic wrap and chill for four hours minimum.
Preheat oven to 350 degrees.  Line two baking sheets with parchment paper.
Place confectioner's sugar into a bowl.
Using a rounded teaspoon, get clumps of chilled dough and roll them into 1 inch sized balls.  (It starts to get sticky, so I put confectioner's sugar on my hands).
Roll the balls into the confectioner's sugar and place on the cookie sheets.
Bake for 10 – 12 minutes.
Allow to cool a minute or two on the cookie sheets before removing to a wire rack to cool completely.
Original recipe can be found at http://www.simplyrecipes.com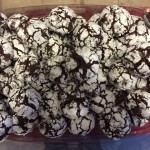 --