Jill's Crock Pot Chicken Cacciatore
Chicken Cacciatore
Submitted by: Jill
Yield: 4 servings
Ingredients:
4 thick skinless chicken breasts
2 large cans of marinara sauce (use whatever brand you like, or make your own)
4 sprigs of fresh basil
2 jars of large Spanish olives (drained / pitted/ and/or with pimento)
4 fresh carrots (quartered).
Directions:
Pour sauce into the crock pot
Add carrots, olives.
Place chicken breasts on top
Then top with fresh basil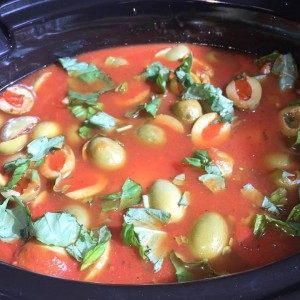 Cook on low for 4 hours.
YUM!
--