Krazy Bark
Submitted by:  Kimmie
I got this recipe from "The Pioneer Woman".  Love to watch her cook!

Ingredients:
1 box of chocolate graham crackers
1 pack of Ghiradelli chocolate chips (you can use whatever kind you want.  Pioneer woman used almond chocolate)
1 med size pack of M&M's
1-2 cup of pretzels
1-2 cup peanuts
Important to note here that these are what I used on top. You can use anything at all you want.  The Pioneer Woman also crushed up some Oreos.
Directions:
Line a cookie sheet with the graham crackers. I find I had to break some to get it to cover the tray.
Melt the chocolate and spread all over the top of the graham crackers.
Sprinkle every thing else all over the top and gently push down.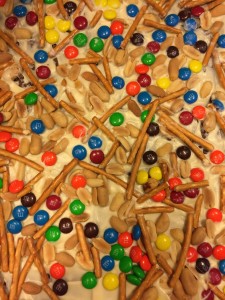 Refrigerate for about 15 minutes.
Remove and carefully break into pieces.
Enjoy! 

--