My favorite antipasto salad
Submitted by: Kimmie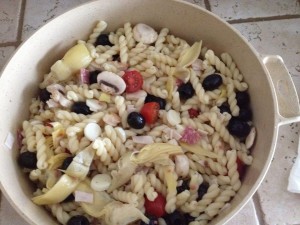 This is one of my easy to make, party favorites as well. In the picture you will see rotini noodles. Normally I use bow tie or colored rotini. But this is all I had that day.
Ingredients:
1 or 2 boxes of cooked pasta
1 container of grape tomatoes cut in half
1 or 2 cans of black pitted olives
2 or 3 jars of marinated artichoke hearts
6 or so low fat mozzarella cheese stick, cut into pieces
1 package of mushrooms, sliced
About 2 cups of cut up dried or Genoa salami
About 2 cups of cut up turkey breast (I used lunchmeat from Costco)
Salt and pepper to taste
Italian salad dressing to taste. I use Newman's Own most of the time, but you can use your favorite!
You can tweak these ingredients to your liking
Directions:
Basically I cut every thing up, mix and dress the night before. This way all the flavors have a chance to combine. In the morning I add more dressing, see if it needs more salt and pepper, and give it a mix.
Great dish for a summer BBQ! We've also had this as a side salad for Holiday dinners!
Enjoy!
--