Two of my favorite supplements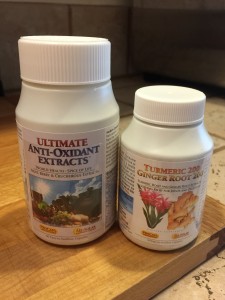 Submitted by: Kimmie
Ultimate Anti-Oxidant Extracts
If you're anything like me, you're always looking for a natural way to better health.  I realize that I don't always eat right and it's really hard to get the essentials you need on a daily basis, from your diet.
One day, while watching HSN (I do that a lot), I saw what seemed to be a nice, informative man (Andrew Lessman) talking about his vitamins.  When heard him describe the ingredients in his Ultimate Antioxidant, I realized that it was somewhat similar to another product I was currently using, however, his were a little less costly. So, I figured I'd give it a shot.  I ordered the Ultimate Antioxidant several years ago and I'm never without it.
Here is an excerpt about the Ultimate Antioxidant from Andrew's ProCap Lab site: "The result is a blend of more than 30 standardized extracts from the healthiest and most beneficial of foods. Ultimate Anti-Oxidant Extracts delivers high levels of the most protective polyphenols from Green Tea, Red Wine and Pomegranate, as well as a wide array of protective compounds from some of Mother Nature's most protective foods, such as standardized extracts of richly colored berries (Açai, Bilberry, Blueberry, Cranberry and Elderberry), as well as uniquely powerful extracts from Cruciferous Vegetables (Broccoli, Wasabi, Mustard Seed, Red Cabbage, Brussels Sprouts and Kale), along with the well-established benefits of powerfully protective extracts of pungent Spices (Deodorized Garlic, Turmeric, Curcumin, Oregano, Rosemary, Sage and Thyme). We use only concentrated standardized extracts assuring you of the beneficial compounds these remarkable foods provide. We also include the protective compounds present from highly concentrated Extracts of Citrus Bioflavonoids, Apple, Pine Bark, Grape Seed and Grape Skin. Nothing compares to Ultimate Anti-Oxidant Extracts' comprehensive collection of Mother Nature's most protective compounds."
As you can see, Ultimate Antioxidant is chock full of great stuff!  I notice I have less colds since I've been using this product.  My daughter uses it as well.
Turmeric-200 Ginger Root-200
Another favorite that I just started to use, is Turmeric-200 Ginger Root-200. I began taking Ginger and Turmeric supplements to help with inflammation due to Rhematoid Arthritis. (Please note, this is not medical advice, just an opinion). I was previously taking a Ginger supplement and a Turmeric supplement from another company. While I was ordering my Ultimate Antioxidant one day during an HSN special, I scrolled through Andrew's products, and I saw that he had a supplement combining Ginger and Turmeric. So, of course, I ordered it. It seem to do the same job as my other brand supplements where I was taking two capsules instead of just one combined.
In an excerpt from Andrew's website, regarding this product,  it states: "Combines extracts of two related plants that offer natural soothing relief for our joints and digestive system. Whether it's your joints or digestive system you seek to sooth, our Turmeric and Ginger Root extracts offer unparalleled natural relief."
My favorite thing about Andrew's products is that most of them are in a powder form in a capsule.  Not a rock tablet.  Much easier to swallow and absorb.
Andrew has many many five star reviews on these two products on HSN. You can go and read them for yourself. I use a few other of his supplements which I will save for another article.
--